Drop Down List in Google Sheets
Here are the steps to add data validation drop downlist.
Click on spreadsheet cell.
Click Menu – Data – 'Data Validation'
Choose any of the listed option for Criteria.
Fill appropriate values for chosen criteria.
Choose action for "Invalid Data"
Click 'Save'
Now, you can see a drop down box in the selected cell. Click on the drop down icon & verify that the list has only valid values.
Here is the explanation on the possible options for Criteria.
Drop Down Criteria Options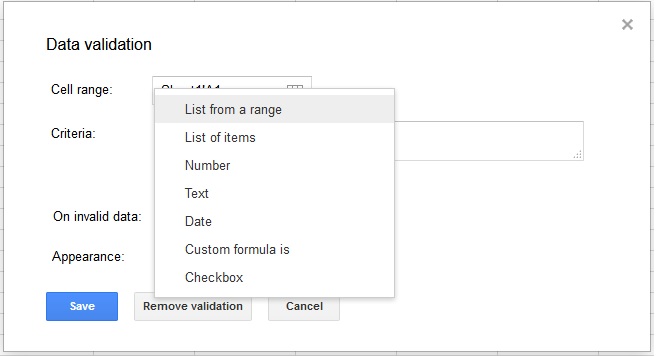 List from Range – To specify a range in sheet with list of possible input values.
List of Items – Comma separated Input values
Number – Range of Numeric values.
Text – A text value that contains in the input.
Date – Input should be a date value
Custom Formula
Checkbox.
These are the possible Criteria option that You can specify for the Drop down Data validation list in Google Sheets.
To test this option, You should have a Google account. Then go to the Google Sheets.
If you don't have a Google Sheet inside Google drive, then go to drive.google.com, create a new Google spreadsheet then follow the above steps.
Note: Adding a drop down box with list of values in cell is similar to the adding validation list drop down list in Excel.
These drop down lists are a method to restrict the user input. For example: When we get input from users, in certain cell or form, we may be expecting only Date-of-birth or Title for the name as "Mr/Mrs/Ms' etc., In those cases, we can enter these predefined values in specific cells as a drop down list.
This saves lot of time in validating the Input entered by user through Google Spreadsheet coding or manual verification.