This section explains few preliminary verifications. If you have already checked this option, directly move to next section.
The Excel Insert button greyed out is a common issue that happens, if your worksheet is protected or workbook is in "Read-Only" mode. To enable the "Insert" button, you can either unprotect the worksheet or change the workbook's mode from "Read-Only" to "Edit".
To unprotect a worksheet:
Click "Review" tab in the Excel menu.
Click the "Unprotect Sheet" button in the "Changes" group.
Enter the password if prompted.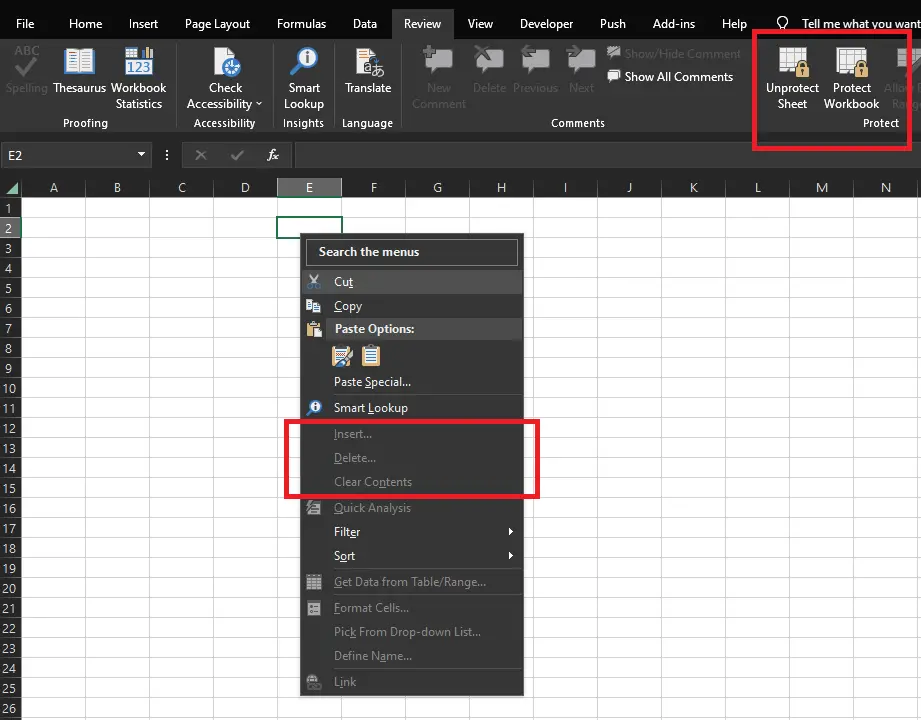 To change a workbook's mode from "Read-Only" to "Edit":
Open the workbook in Excel.
Click the "File" tab in the Excel ribbon.
Click "Info" on the left sidebar.
If the workbook is in "Read-Only" mode, click the "Edit Workbook" button.
Save the workbook with a new name.
If the problem persists, try re-starting excel or check if you have the appropriate permissions to the excel file you are trying to edit.
If none of these options work out, move to next option to enable a greyed out insert button in Excel.
1. Enable Greyed Insert Button in Excel
Sometime the Row/Column Excel insert button greyed out or get disabled. Unsure of what happened. Here are few hints to bring it back.
Follow these simple steps to enable the Insert button in Excel.
Close all Microsoft Excel Applications
Press "Windows Key + R" & type "%appdata%\Microsoft\Excel".
Rename the file Excelnn.xlb to Excelnn.anything
Now, open any Excel file, right click on any cell & check whether the Insert button is enabled.
Note: This option works if the Excel file is not protected for editing. To know how to make a protected sheet to unprotected one refer this page.
2. Enable – Excel Insert Button Greyed Out or Disabled
If both the above options does not work, then try this alternate method.
Goto Excel File menu -> Options -> Advanced
Scroll to Cut,Copy, and Paste
Enable check box for Show Insert Options button
Scroll further down to "Display options for this Workbook"
Check combobox 'All' under 'For Objects, Show'
These 2 options will work out.
Now again go to the Excel worksheet & check whether you are able to see the Insert button.
External links:
How to enable greyed out Insert button in Excel – click here to read more?