Windows 10 – Weather Taskbar  – Remove/Add option
In Windows 10, this weather widget is available in taskbar by default for many users.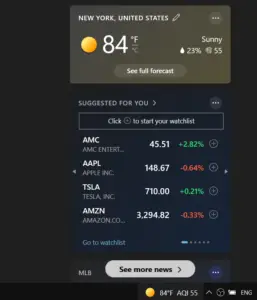 Though it is an useful option, many users does not like it. May be because users want more space in taskbar to manage the multiple applications. They does not like this weather forecast widget steals that space.
Anyways, here are options to add/remove weather from Taskbar.
How to remove Weather from Taskbar in Windows 10?
Right click on Taskbar
Choose options News and interests
Click turn off
or Turn on to add it back to the taskbar. Though this is easy option, Windows 10 users are finding it difficult in removing this. It is because this option is attached with option News and interests.
It would be tough to related weather is behind the news, bcause the weathe report comes last in almost all News channels. 🙂
Anyways, this is are steps. This options takes the news from your location, if you have enabled identifying your location in the Micosoft account. Also, you have the flexibility to add or remove topics and location of your interest to get the news & weather report – right on the Taskbar.
Once you click on this option, You should be able to get a detailed weathe report and news details on the pop up like the above image.