Best Freelance Platforms
As usual I signed up with lot of freelance websites like Upwork, Guru, Remote, Fiverr & Freelancer
Out of all these, Fiverr worked out very well for more than a Year back in 2018.
You can also make lot of money from these websites, just like how I did.
How I got These many comments?
These are few of the latest comments that I got from my customers.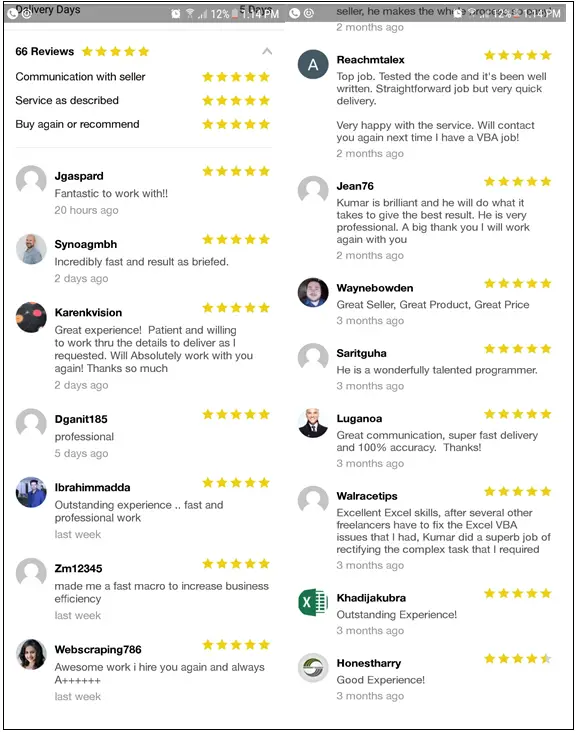 You can see that it is all 5 star rating. It is not a tough one. You can also get good reputation like this by following the basics of Software Engineering steps.
Quality work, Proper price estimation are very important things to impress your clients.
But apart from this, communicating terms & conditions or negotiating additional changes (or revisions requested) by client during project execution are some of the challenging things.
Estimation Tips – Calculating Bidding Cost
Most of the time, many Freelancers quote a less price just to win it. It is very big mistake. Why?
Read these golden rules – to earn more & win your customers reputation.
Do not bid less just to get projects easily. You will end up in working more hours for less money.
Do not bid for something that You are not confident in doing.
To arrive at a bidding cost, estimate number of days or hours first, then charge 3$ to 5$ per hour (This is how most freelancers arrive at a cost. It varies based on the type of service you are providing).
Discuss with Client that additional requirement (amendments to initial scope of project) & support after project delivery will incur additional cost.
Include hours you spend on analyzing the requirements to Project Timeline.
Include the expected hours or days required for "After delivery Support"
Even if you compromise any of the above points, it will cost your time & unnecessary stress.
None of the available Freelance or Micro-job websites provide separate price quoting for Project initial analysis or support or maintenance activities after delivery.
Major Issues with Freelance & Microjob Platforms
For Customers:
My Fiverr account kumarapush777 got disabled without any warning.
For all Ongoing projects, please contact us here:
Email: officetricks123@gmail.com
Skype: kumarapush123@gmail.com
Its been long time, that I have had so many reputed customers from Fiverr. Here are few comments from my buyers. It is so unfortunate that Fiverr just disabled the ID with no warnings.
Don't know what their team was doing while promoting my ID to a Level Two seller or for the last 1 year.
If you already on Fiverr, this could happen to you as well. Try to create backup of your data & reviews from projects consistently. Never ever trust a platform like this one.
Useless Customer Support
They will keep saying it is not possible to enable it again.
Don't waste time in contacting their Support Team to re-instate. It is not going to happen. Just right away create another ID using different email id to get in touch with your old customers.
It is better not to depend too much on one platform. Try Upwork, Guru, Remote.com etc., & there are plenty of such websites.