WhatsApp Voice Call Feature – Is it true?
Updated April 4th: Whatsapp Voice call is available now with version 2.12.5 available in Play Store. Whatsapp voice call feature can be activated without any call from your friends with this update. See the image below that is posted by Whatsapp.
Updated Mar 22nd: The Time window to enable this option is closed as per updates from few websites. So, this option will not work, till Whatsapp enables it again. But, if this Whtsapp voice call is not working, then it can be activated by rooting your Android mobile and editing "com.whatsapp.preferences.xml". Search in Google for this xml and you can get lot of tricks. But we aware that many people will end up unrecoverable damage by rooting their Android.
Answer is "True" and I myself have this option enabled in my Android.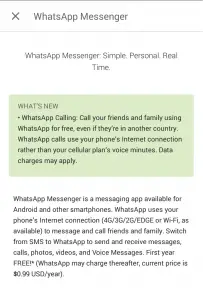 WhatsApp already has option to send Text messages, Voice notes, few file attachments & Media files. There is lot of blog posts already circulating out there, claiming that VoIP on WhatsApp feature is activated.
*VoIP (Voice Over IP) – Voice communications over Internet Protocol (IP)
But still, there is no official announcement from the Developers. May be they are waiting for adding any charge or terms & conditions for this new option. So, let's enable and have fun till they release any news about this update.
Activate VoIP on WhatsApp – Voice Call
Most of the sites suggest following the below steps to experience this facility:
First download the latest version of WhatsApp (2.11.561) from Google Play store.
Once installed, someone with this facility already enabled in their mobile, has to make a call to your number.
Once you get a call, close and reopen the App in your Android phone.
You can now see, there are separate options to make call & Message visible in your WhatsApp.
This process works for some people just instantly. If it did not work for few, try the whole step after a few minutes of time interval.
Be aware that there is no additional software required for activating this feature. Just the latest version in Google Play Store will work out.
Is VOIP option exists only in WhatsApp?
This option is available in other messengers like Hike, Line, WeChat etc., These are also free messenger services for Smart phones with Text, Voice Calls, Video Calls and File sharing options.
But WhatsApp has a huge user base than other messengers and hence this topic is gaining lot of popularity among internet users. After the acquisition of WhatsApp by Facebook, any kind of news about this free messenger is a viral topic that spreads so rapidly.
All these options provide business & working people a facility to make free calls to their clients, partners, onsite counterparts over these VoIP messengers and saves few money in the monthly budget.
Note: People are even posting their personal mobile numbers in lot of websites requesting people to call them to get new WhatsApp VoIP (Voice call) option. There is no hurry. Don't post your numbers in public forums. Wait till some of your friends have this option activated and make a call to you.
Leave a Comment if you Like our Posts or If you have any queries.