What are these 2 Latest updates from WhatsApp?
Not sure how many know that these 2 latest updates are available in their WhatsApp messenger latest version (2.20.13 or above)
Activate Dark Mode Theme.
Enable Fingerprint Scanning.
Lets see how to enable these options in Your smartphone.
1. How to Activate WhatsApp Dark Mode?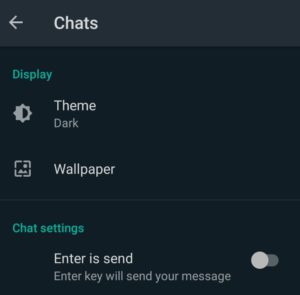 To have dark mode, first You have to update WhatsApp to a version greater or equal to 2.20.13.
You can check the version installed in your machine using the steps explained in this page – click here.
Also, you can opt for Beta tester for this app in play store to get the latest versions. Once you have the latest version follow these steps to enable dark mode.
Open WhatsApp.
Click Options (3 dots on top right).
Choose 'Settings' -> 'Chats'.
In Theme, select 'Dark'.
Click 'Ok'
You could notice that the background has become black with white text. It gives less strain to your eyes. At night or dim light, Your eyes wont be exposed to much light.
2. How to enable Fingerprint Scan to open Whatsapp?
The actual name for this option in WhatsApp is Fingerpring Lock.
Before using this option, You should have enabled fingerprint security option in your smartphone & also your phone should have the require hardware options to scan fingerprint.
Once it is available, follow these steps.
Open WhatsApp messenger.
Click Options (3 dot on Top right)
Select Settings -> Privacy.
Scroll to end. Click on Fingerprint Lock.
Click "Unlock with fingerprint".
Choose wait time to lock messenger.
Thats it. After this, whenever you open the messenger, it will show a screen to scan the fingerprint. If validation is successful, it will open the app.
This way, it provides additional security option. Only authorized people can see your WhatsApp messages after enabling this option.
WhatsApp does not fail to meet its users expectations. They keeps updating the app with latest advancements in technology. This makes this app the most used personal chat messenger.
External Reference: Fingerprint Lock from WhatsApp Official Blog.