WhatsApp Latest Update
Here is a very good news for all those who are using Whatsapp Web.
Whatsapp Web: Obviously most people know what it is. It is an option through which users can view & send Whatsapp messages from their PC using their favourite web browsers like – Chrome, Firefox & Edge.
If you are not sure how to use this option, that explain how to login into Whatsapp web.
What is that New WhatsApp Update?
All this years, you can only view messages in Whatsapp web if your phone is online and Whatsapp is connected.
This is no more required.
Yes, once you login to new WhatsApp web, you can see a message like this.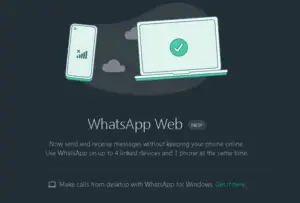 This means that, your phone need not be online to operate in Whatsapp web.
Also, you can connect upto 4 devices & 1 phone. So, overall you can have 5 login sessions with one Whatsapp Account. Its really an exciting feature.
Multiple Logins & No more Online
If you are using whatsapp for your business and multiple people or stake holder or employees have to check business related messages or orders, now it is easy with this multiple login sessions.
Not sure whether Whatsapp will extend this to have many more sessions. If so then it has potentially replace other chat messengers (aleady it is the most used app in many countries).
Also, people might start using instead of Outlook or any mail clients, if this has multiple sessions allowed. If not for big organizations, but still this would be a very good option for small businesses where they have handfull of employees to process orders.
With more and more optons getting added towards the Whatsapp web, it opens up web automation experts more ways to autoamting & handle the messages received. More & more CRM options getting added to Whatsapp business would improve its usage further. But also there would be struggle in keeping it simpler for usage.
Here are other such updates from Whatsapp for year 2022.