Can You Video Chat On WhatsApp?
Update: Nov 14 2016 – WhatsApp Video call facility if officially released.
Just Update the app from PlayStore / App Store and enjoy Whatsapp Video call in Android, Iphone & Windows Phones. Still you can read this article on how to become a Beta tester for Whatsapp and enjoy its pre-release features.
If this works, click here to share it with your Whatsapp friends from your mobile.
WhatsApp Video Call is not yet enabled to everyone officially, but this trick will activate it. Prior to Nov 14, Video Chats are active for few random users and Beta Testing Users only. All you need to do is to find how to get Beta Tester invite, to make Video calls to your friends.
Activate WhatsApp Video Call
Ok. so you have to become a beta tester to enjoy the latest updates before the other users get it. Follow any of these methods to get this activated right away in your phone.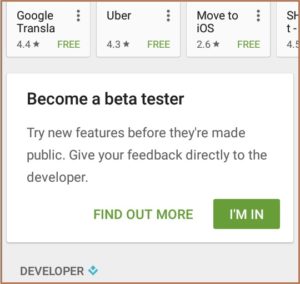 Method 1:
Open 'Play Store' in Android Phone.
Search for WhatsApp & Click it.
Scroll to bottom of App page.
Click on 'I'M IN' option to become a Beta Tester.
Go to top of page & Click Update.
Method 2:
Open Internet browser in Android Phone (Chrome/Firefox).
Open this link- https://play.google.com/apps/testing/com/whatsapp
Click "Become a Tester" option.
Go to Play Store.
Update WhatsApp to new BETA version.
Once the app is updated using any of the above methods, read further to know how to make video call.
How To WhatsApp Video Call?
It is all set on your smartphone. But how about the person to whom you are calling. The person whom you are calling should also have this option enabled.
Note: If it is not enabled for them, just share this page & ask them to update Beta WhatsApp version.
Now open the contact who also have video call activated in WhatsApp. Click on make call button on Top right side of the chat window. You will get popup option asking to choose whether you want to make voice call or video call. Choose Video call & enjoy video chats.
What is Actually a Beta Tester?
This is actually an option enabled for Android developers. Android Developers before releasing the final version of their app to Play store, they release a Beta version Google Play store. This version will be available as an update to all users who have enrolled for beta testing.
Once they go to Play Store in their mobile & click on 'Update' for these Beta testing apps or here in our case WhatsApp, they get the beta version with latest updates. Other than that, they don't have to do anything extra. They can keep on using the app as how others use it.
But the problem is, you might also encounter few bugs while using such pre release app versions. Its not like you always get an error. It depends on the quality of the developers coding the app. I am also a beta tester for WhatsApp & I haven't got any errors or problems in using the beta version. Even If any error occurs, the developers analyze them & fix all the errors, before a actual final official version is released.